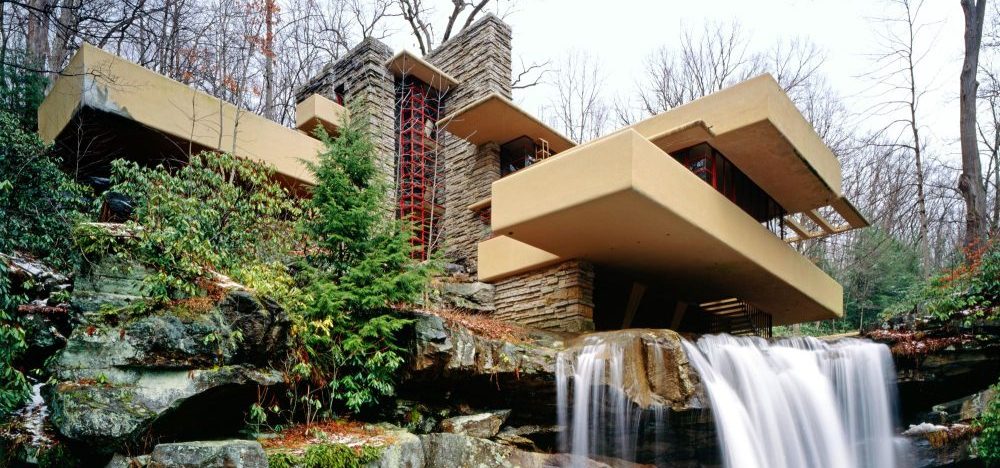 This article marks the second in my series that explores renowned historical buildings, speculating on integrating contemporary sustainable materials and energy-efficient measures not initially available during their construction to achieve Platinum LEED Certification. In this installment, we gaze on Frank Lloyd Wright's iconic Fallingwater, erected in 1935. David.

Introduction
Frank Lloyd Wright's Fallingwater is a gem of American architecture, a 1935 creation that continues to captivate admirers today. Yet one question beckons: what would it take to qualify this iconic structure for Platinum LEED Certification using today's sustainable materials and energy-efficient measures? In this blog post, we'll precisely explore that.
The 1935 Reality
When Fallingwater was built, the materials available represented the best that 1935 had to offer—steel, concrete, and glass made using energy-intensive methods, with little thought to environmental impact.
A 2023 Vision
Imagine applying today's sustainable construction techniques and materials to elevate this iconic structure. For the reader's benefit, let's explore real-world examples of how various materials have evolved and can contribute to a more sustainable Fallingwater.
Solar Panels and Green Roofing: The Future of Clean Energy
Fallingwater was conceived before the advent of solar panels and green roofing. Today, these technologies are integral to achieving Platinum LEED Certification. High-efficiency solar panels could convert ample sunlight into clean energy, significantly reducing the building's reliance on nonrenewable power sources. A green roof would act as a natural insulator and manage stormwater, decreasing the building's environmental impact.

Advanced Glazing and Insulation: Harnessing Energy Efficiency
In 1935, the energy-efficient, low-emissivity (LowE) glass and high-performance insulation materials we have today weren't even a thought. Retrofitting Fallingwater with modern glazing can drastically improve its thermal performance, keeping interiors cool in the summer and warm in the winter. Such advancements go a long way in reducing energy consumption, an essential criterion for Platinum LEED Certification.
Smart Building Systems: Intelligent Resource Management
Intelligent building systems like automated lighting and HVAC controls are a far cry from what was available in the 1930s. By incorporating smart technologies, we can achieve real-time energy monitoring and automatically adjust settings to optimize resource consumption.
Water Efficiency Measures: The Future is Now
Incorporating water-efficient fixtures and rainwater harvesting systems can substantially reduce water usage. Low-flow toilets, faucets, and a rainwater collection system for non-potable uses make the structure more sustainable and contribute to Platinum LEED Certification requirements.
Sustainable Building Materials: The Eco-Friendly Choice
The original construction materials were constrained by what was available in 1935. Today, we can opt for eco-friendly alternatives such as reclaimed wood, recycled steel, and low-VOC finishes. These have a lower environmental impact and contribute to a healthier indoor environment.
Conclusion
The opportunity to marry Fallingwater's timeless design with the advances in sustainable building materials and techniques offers an exciting avenue to protect and elevate this masterpiece for future generations. Technology exists; all it takes is the will to apply it. By doing so, we pay homage to Frank Lloyd Wright's original vision for Fallingwater and adapt it to meet the challenges and opportunities of the 21st century. Thus, we can transform Fallingwater into a monument of the past and a model of sustainable living for the future.
While Fallingwater remains an architectural marvel, it's intriguing to consider how it could meet today's sustainability standards. With modern advancements in clean energy, insulation, Smart Building Systems, water efficiency, and sustainable materials, this iconic building could preserve its historical significance and symbolize environmental responsibility. Retrofitting these features would elevate it to Platinum LEED Certification status, marrying its timeless design with today's eco-conscious ethos.
About Consulting For Architects, Inc. Careers (CFA)
Helping architects, interior designers, and building design professionals find better career opportunities nationwide every day since 1984. Send your resume and portfolio to [email protected].
Sources and Acknowledgments
This article was crafted using the author's original ideas, research data, insights from personal and professional experience, and an assist from ChatGPT, a large language model developed by OpenAI. For more details, refer to OpenAI. (2023). ChatGPT (August 3 Version).
Architecture: Sustainability Revisited
21stCenturyDesign, architects, ArchitecturalConservation, ArchitecturalInnovation, architecture, CleanEnergy, Consulting For Architects, David McFadden, EcoFriendlyDesign, EnergyEfficiency, EnvironmentalResponsibility, FrankLloydWright, GreenBuilding, HistoricPreservation, jobs, LEEDCertification, ModernConstruction, SmartBuilding, SustainableArchitecture, SustainableMaterials
Comments Off

on From Past to Present: Transforming Fallingwater with Sustainable Innovations