Mobile App
Download our Job App
The CFA Job app is the fastest and most enjoyable way to search new job openings in architecture and interior design from the leading staffing and recruiting firm exclusive to the design community.


Install the CFA Job Search app.
Create or import your resume.
Swipe through jobs and apply!
     OR, Search for jobs as a Guest.
Use this app to apply for jobs, manage your resume and other documents, and more – all directly from your smartphone. With the CFA job search app, you can:
Search and apply for open positions. Find jobs and share your resume with only a few smartphone taps.
Track your Applications.
Store and manage your resumes. Upload your latest resume to the Job Search app and use it to apply for jobs with one tap.
Fill out, electronically sign, and submit On-Boarding documents.
Submit feedback on Assignments. Communicate with our team without leaving the Job Search app.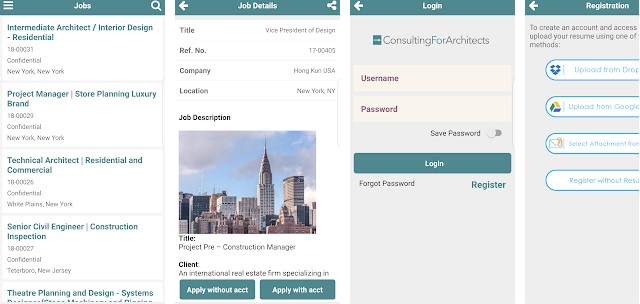 CFA is the only placement firm built from scratch by a published designer educated and experienced in architecture. Our search techniques utilize that enhanced insight, which is why job seekers and hiring firms choose our top-tier staffing services.
Project Basis
Project-to-Perm Basis
Permanent Basis
Specializing on job openings in New York, Los Angeles, and Nationwide.