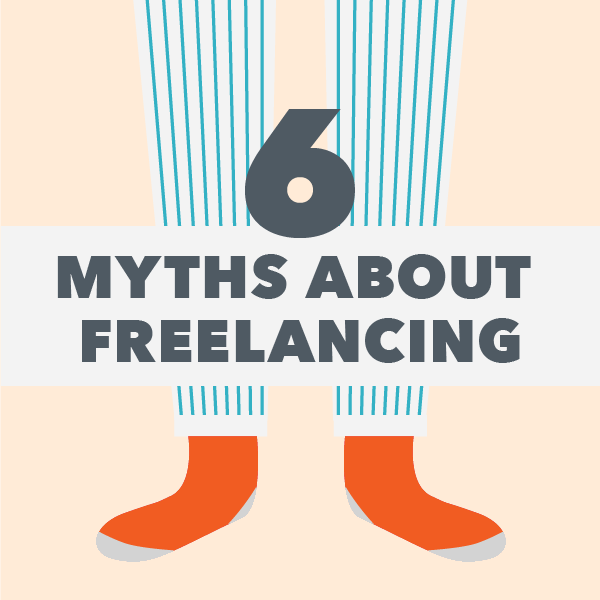 Author: Lindsay Van Thoen December 20, 2013; for the Freelancers Union
What happens when you tell someone you're a freelancer?

In my experience, you'll probably get some version of the following:
1. "I wish I could work in pajamas and sleep in every day!"
There may be some freelancers who don't have to leave their house, spend their days watching Mad Men reruns, and only work 4 hours a day — but honestly, I haven't met one yet.
Most freelancers are too busy going to client meetings, meeting with prospective clients, working out of the client's office, going to networking events, working around their families' schedules, and, you know, running their own business.
The idea that freelancers are sloppy and carefree somehow implies that freelancers just don't work as hard as 9-5-ers. Not true!
2. "Ugh, the economy is so tough." (I.e., freelancing is not a real job or people are only freelancers because they can't find a real job.)
While it's true that many traditional workers didn't start freelancing by choice, it doesn't mean that freelancers are poor, miserable souls who can't wait to crawl back to corporateville.
Many freelancers either go independent by choice or find they like freelancing better, whether it's because of more autonomy or better work/life balance or a host of other reasons that don't involve desperation and agony.
It's true that freelancing still doesn't have the status of a C-level position in most fields. I expect that as more workers go freelance, a more realistic perception will develop: there are bad freelancers and good freelancers, happy freelancers and miserable freelancers, experienced and inexperienced.
We'll soon see workers as whole people with a set of skills and services, not as the position they're in.
3. "It must be so nice to never have anyone order you around!"
Wouldn't it be great if this were true?
It's true that freelancers are their own bosses — but sometimes, to maintain a good client-freelancer relationship, you have to let the client have what they want.
The best clients do say: "Here is the task I want, here are my expectations, I trust you to complete it well." There are also clients who micromanage you the whole way. And a whole host of other people who think "freelancing" means "lowest rung on the totem pole that I can treat any way I want." This is where freelancers have to educate clients about proper relationships and expectations.
4. "You must always have such exciting work!"
One of the best things about freelancing is that, to a certain extent, you get to choose the projects you'll work on. If you work in a creative field, you'll also be able to develop your own unique style/niche/speciality, so that people who come to you want YOU, and let you be your whole self.
But there are going to be boring days. There are going to boring projects or boring revisions or boring accounting.
Also, some freelancers are happier doing work they're good at for steady clients than having constant new/exciting projects. They love the time they have with their family and they love the flexibility more than they love every single project they work on.
5. "Freelancers pad their invoices — you can always get them to negotiate down their fees."
You probably won't hear anybody say this to your face, but they will say it behind your back!
First, many freelancers are actually undercharging for their services. That's because many people who go into freelancing assume that they should charge the hourly rate they got when they were an employee.
No. You need to charge that hourly rate, plus what you used to get for benefits that you now have to pay for yourself (~20-30%), plus an estimate of how much time it takes to land the client and ancillary things (like invoice filling), plus any equipment costs (like computers). This is an accurate representation of your value, not padding.
Freelancers who undercut the market rate hurt all freelancers and set expectations for cheap work.
6. "I could never freelance — I have too many financial obligations. It's so insecure!"
The truth is that every job is insecure. Markets change, companies close or downsize.
The only security you have is the ability to provide a service of value that someone is willing to pay for. Your security is you. This isn't a mindset, it's a set of actions — all of which are easier said than done.
Smart freelancers make themselves recession-proof by having multiple income streams, constantly marketing themselves and forming new connections, and staying flexible by learning new skills, new programs, new fields.
When the economy leaves a smart freelancer in the lurch, he/she can pivot skills or rely on another income stream. Traditional employment can give one the illusion of stability, and that in itself is pretty risky!
What other myths about freelancing have you heard?