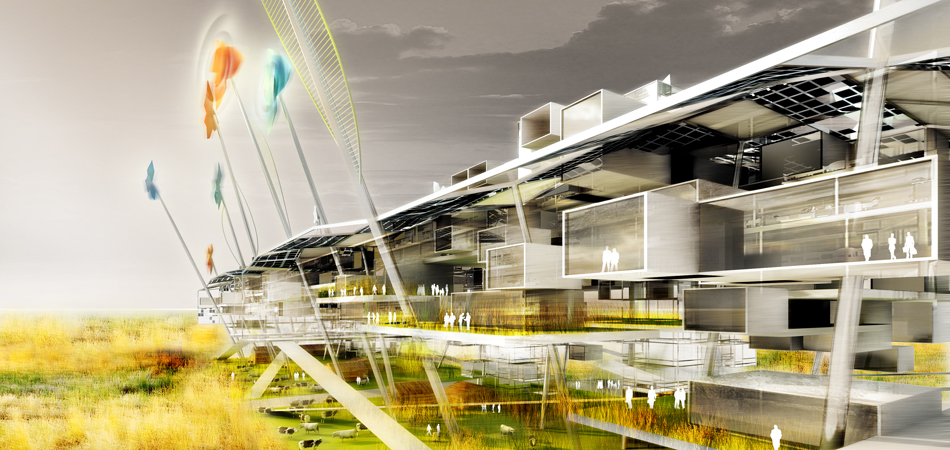 Architecture Billing Index
Firm Billings Remain Solid in October
Architecture firms anticipate relatively slow adoption rates for new and emerging technologies in design and construction
By Kermit Baker, Hon. AIA, AIA Chief Economist
U.S. architecture firms reported another solid month of growth in October 2015. The AIA's Architecture Billings Index (ABI) was 53.1 for the month, demonstrating a solid increase in firm billings that was just below the 53.7 score for September. New project inquiries, with a score of 58.5 for the month, and new design contracts at 51.7, point to healthy business conditions at architecture firms. However, both readings fell a bit from their September level, suggesting that growth may moderate just a bit in the coming months.

The overall strong performance in business activity in recent months is beginning to show a regional pattern. Firms in the South have been reporting continued strong business conditions through the year, while firms in the West have been reporting acceleration in billings over the past few months. In contrast, Northeast firms have been reporting weak conditions in recent months, and Midwest firms—while reporting growth—have seen billings increase at a somewhat slower pace.

Firms in all the major construction sectors reported healthy conditions in October, with the strongest growth coming from commercial/industrial firms. Residential firms recorded their second straight monthly increase after   seven straight monthly declines. Institutional firms saw growth on par with September, but their ABI scores have been declining for the past several months, indicating that the pace of growth of billings at these firms has been moderating.

In Spite of International Concerns, U.S. Economy Doing Well

The economy sputtered a bit in the third quarter, producing only 1.5% growth at an annualized basis. However, there appears to be some firming in economic conditions to date in the fourth quarter. There was a net increase of 271,000 payroll positions nationally in October, well above expectations, and the strongest monthly increase so far this year. That pushed the national unemployment rate down to 5.0%, its lowest level since early 2008. The construction sector has been an important contributor to the employment front, adding 31,000 payroll positions for October and 159,000 through the first ten months of the year. Construction has thus accounted for almost 8% of payroll gains so far in 2015.

An improving labor market, coupled with continued low gasoline prices, has improved the consumer's outlook. The preliminary consumer sentiment index from the University of Michigan jumped up in November to its highest level in several months. This has produced higher levels of consumer spending, as retail sales—after netting the lower amounts spent on gasoline—saw healthy gains in October. A key test of the perceived health of the economy will come in mid-December when the Federal Reserve Board decides whether an increase in short-term interest rates is warranted to prevent potential future overheating.

Innovative Technologies May Not Yet Be Ready For Prime Time

In the design professions, as in other sectors in our economy, change is inevitable, but the pace of change may be slower than commonly thought. In an effort to see how the profession might be evolving over the coming five to ten years, this month's question to the AIA's Work-on-the Boards panel looked at design and construction elements that might be increasing in importance over this time period.

Topics covered included the areas of design and construction process and techniques, building characteristics, building features and systems, and construction materials. Several of the areas deemed to be becoming more widespread over this period are already fairly widely utilized, such as lighting technology systems (LED, day lighting/natural light), water conservation/efficiency, and energy efficiency designs and retrofits. The overwhelming majority of respondents felt that these design elements would be increasing in importance over the coming five to ten years.

However, other recent innovations that typically have garnered more attention may not reach the same levels of adoption over this period according to architecture firms. One example is the use of robotics in the construction process. Only one in nine respondents feels that this technology will significantly increase in importance over the next five to ten years. Conversely, about four in ten respondents feel that there were be no significant increase in this technology over the coming years. The results were not much different for 3D printing used in the construction process. Only about one in six respondents feels that this technology will significantly increase in importance in the coming years.

This month, Work-on-the-Boards participants are saying:

• After a late summer lull, clients seem to be back at their desks, making decisions and issuing RFPs and RFQs. Prospects for 2016 are looking up.
—33-person firm in the West, mixed specialization

• Firms are very busy and fees are slowly catching up with personnel salary increases.
—6-person firm in the South, institutional specialization

• Northeast (other than NYC) is still struggling to come out of the recession.
—4-person firm in the Northeast, mixed specialization

• New problem for us, long-predicted: talent shortage. Could increase staff by 15-20% if people were available. I expect this to last a long time.
—20-person firm in the Midwest, commercial/industrial specialization

Additional Resources:

Join the AIA Practice Management Knowledge Community to receive more practice-related content

Reference:

The ABI Work-on-the-Boards Survey Panel is open to any AIA member who is principal/partner of their firm. Apply to join the ABI panel by completing a brief background information form on your firm here.

Article originally posted on the AIA.org Website.
Architecture Practice
aia, architects, architecture, Architecture Billing Index, Consulting For Architects, David McFadden, design, Economics, Federal Reserve, Fees, Inc, Labor Market, Salaries, Talent Shortage
Comments Off

on Architecture Billing Index