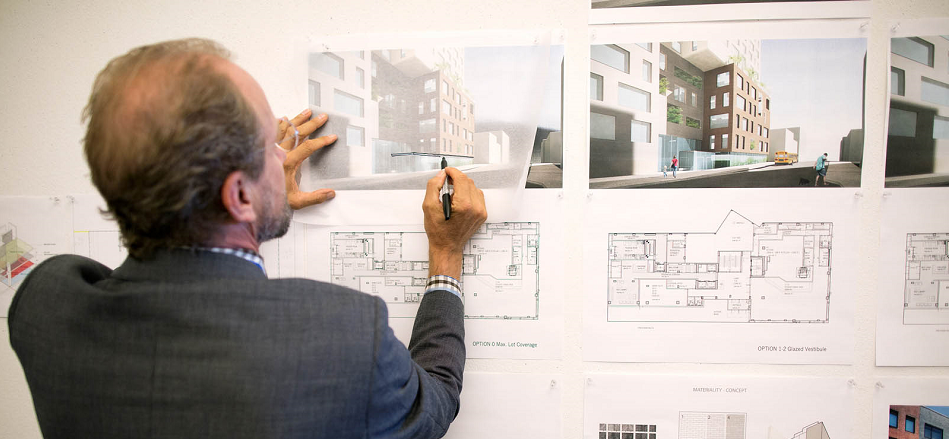 In our third installment of Archinect's Guide to Job Titles series, we attempt to tackle the nuanced role of the Studio Director without falling back on search engines like Google and Bing or job boards like Glassdoor, Indeed, Monster, or Ladders [not in original article]. As with most positions within architecture firms, the lines are quite blurry when it comes to the role of Studio Director. For some, this leadership position acts as a kind of operations specialist and strategist while also functioning as a firmwide design leader. For others, the Studio Director might function as a buffer between design teams and the higher-level leadership of an organization. And for others still, this individual might run their studio as a kind of "mini-firm" within a larger firm, responsible for their own business development, hiring, project management, and overall growth. The intricacies and variations associated with such a dynamic posting can't be explained exhaustively, there will always be some deviation. Nevertheless, what follows is our attempt to capture the inherent essence of this career path in architecture.
Structural Relevance
Architecture firms come in many forms. Depending on size, the internal structure of the personnel will differ. Some firms might operate in a departmental structure, where each team works on a specific phase of a project: a design "department" might work on the programming and schematic phases before passing the work on to a technical department that would realize the construction documentation. Others might have various project teams, each with its own project managers who are overseen by a Studio Director or Principal(s). And others still might divide into multiple studios, each with a specific function, and led by their own Studio Director, respectively. In this structure, each Studio Director would report to a Managing Principal, Design Principal, or both. Some Studio Directors may even be partners of the firm or Principals themselves. When it comes to the possible organizational structures of design firms, the variations are many.
While the interpretation of the role will differ from office to office, a Studio Director will typically oversee a studio. This may be a single studio under one roof, with a small or medium-sized staff, separated into smaller teams, each with a project architect/project manager, a job captain, and designers. Each team leader could report to a Studio Director who then might report to or collaborate with a higher-level leadership team, such as a firm's Principal(s).
A studio could also be one of many within a larger firm, each with an expertise focus such as hospitality, healthcare, sports, workplace, restoration, or interiors. Each Studio Director would have specialized knowledge and experience in their area of expertise. In this model, studios might operate under the umbrella of a larger firm but would function as its own "sub-firm," having its own clients, staff, and sometimes even its own receptionist. These "studio structures" can vary widely, and the nuances will depend on the organization in question.
A Studio Director Needs to be a People Person
In Archinect's Growing Leadership and Practice: Laney LA's Search for a Studio Director, we dove deep into conversation with Anthony Laney of Laney LA about his search for a Studio Director. "On day one, five project managers, each with their own team of one to two aspiring architects, will report to the Studio Director," Laney told Archinect. "So, in total, the Studio Director will be leading a team of about 14 people. Right now, I'm giving about 30 percent of my time to a Studio Director role. We want to tear the lid off of that and allow someone to give it 100 percent of their time." Here we have the leader of a relatively medium-sized firm in need of a Studio Director to act as a point person between him and his project managers. Laney saw this as someone who was not only in love with design, but who also had a deep passion for creating and building a great team.
People skills are 80 percent of the job, probably more…
Archinect also spoke with Lindsay Green, Principal and Studio Director at OFFICEUNTITLED, and Shawn Gehle, Principal and Co-Founder. On the topic of managing a team and dealing with different kinds of people, the pair elaborated further. "People skills are 80 percent of the job, probably more," they said. "You have to deal with multiple personalities every day. Happy people; sad people; staff; clients; personal issues amongst the team." They went on to articulate the expansive role a Studio Director might have within an office. In addition to effectively managing people, a leader in this role might also take on responsibilities of reviewing the office's backlog and ensuring future staffing needs are fulfilled, overall professional development and client management, internal development of team members, human resources, and finance. "We really rely on Lindsay to run this office, we look to her to understand our overall health and outlook," Gehle said of Green. "She acts as a kind of Chief Operations Officer, shepherding the resources within the office."
A Strong Business Acumen
Green's role goes far beyond that of the traditional project manager or project architect, but rises further into rigorous strategic planning and execution, calling for business acumen and facility not typical in architects. "I think if someone is considering this role as something to work towards in their career, they should consider getting an MBA. Understanding business is crucial in this position," Green elaborated. "And even after that, it'll take on-the-job experience to establish an understanding of how firms operate."
Where before one's core preoccupation might have been client satisfaction, design quality, timely deliverables, and internal team health, the focus now expands to a broader higher level concentration dealing with the business, strategic, and developmental aspects of the organization as a whole. Yes, project teams are concerned with these aspects, but on a fundamentally different level. They have a responsibility for their projects, whereas a Studio Director's daily duties directly deal with the trajectory and direction of the bigger picture, moving beyond a partial focus to a comprehensive one.
What are firms looking for?
So what are firms looking for in a Studio Director? Take Gensler, a corporation based around a "collaborative studio leadership model." Each studio has a specialty and is led by a highly experienced Studio Director, who oversees everything from overall management of the team and projects to the finances and budget. They work closely with staff in both professional development and mentorship as well as hiring in collaboration with HR. Studio Directors at Gensler are responsible for marketing, developing new business, and responding to RFPs, along with several other high-level responsibilities. According to Gensler, those pursuing this role should have a minimum of 15 years of experience and have a proven record in their area of focus. Moreover, Studio Directors at Gensler should possess a comprehensive personal portfolio of work, illustrating their aptitude and understanding of their expertise. Essentially, Studio Directors are leaders of their own small firm within the larger organization that is Gensler.
A Multi-Disciplined Leader
In the end, Studio Directors are multi-disciplined leaders with a depth of experience that allows them to lead a team of professionals of varying experience levels. They operate on multiple fronts, some of which include business functions such as staff development, hiring, strategic planning, finances, as well as traditional functions like QAQC, guiding design quality, and managing clients and projects. The possibilities appear broad and wide-ranging, but we've learned that business acumen is crucial, people skills are essential, and a deep understanding of the traditional functions of the architect, indispensable.
Author – Sean Joyner is an architect-trained writer and editor at Archinect. His articles and essays utilize themes in history, philosophy, and psychology to explore lessons for students and professionals within the fields of architecture and design. Sean's work prior to Archinect focused primarily on k-12 and higher education projects in Southern California. Some of the things Sean enjoys are playing and practicing chess, studying obscure topics like quantum physics and cryptography, working out, and reading compelling books.
Sean Joyner's Blog on Archinect
Archinect
Consulting For Architects, Inc. Staffing and Recruiting Hiring Trends Blog
Articles:
Salary and responsibilities for design directors for interior design
Harvard GSD announces winners of 2020 Richard Rogers Fellowship