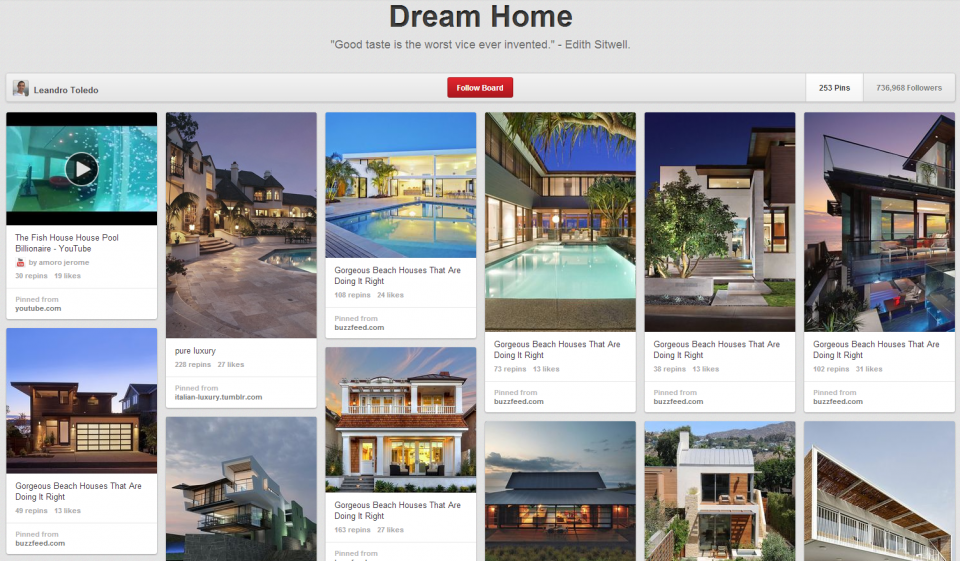 I have been having a lot of fun lately with Pinterest, a social bookmarking site where users collect and share photos of their favorite events, interests and promote their companies and services.  I know many architect and design colleagues use Pinterest for these purposes and more, but wondered if you do too? Follow CFA on Pinterest!
Pinterest is the third-largest such network behind only Facebook and Twitter, and it is expanding in countries around the world. Of interest to us, most significant architecture publications and prominent architecture firms have a Pinterest account with multiple "Boards" with today's architecture and design news or a firm's latest work.  A great example would be the online architecture magazine, Dezeen (Follow Dezeen on Pinterest»). Their latest Board is an ongoing collection of "best hotels" (See our new hotels Pinterest board»), which is very interesting.  Two good examples of an architecture firm's beneficial presence on Pinterest, are the popular work of Zaha Hadid and SOM. 100's of Pinterest users who admire architecture or work in the field will "Pin" a project they admire.  Just look at how popular the works of these two firms are among the Pinterest community  Zaha Hadid and SOM
This post by Scott Meyer on Digital Homesteading titled, "Six ways Architects Can use Pinterest" breaks it down.
Six Ways Architects Can Use Pinterest

by Scott Meyer on October 19th, 2012

Pinterest is the fastest growing social network and there are many creative ways to use it for your business.

Fentress Architects from Colorado recently downloaded our most popular (and free!) ebook, The Advanced Guide to Pinterest. After reading it, they wrote to ask how architects specifically are using Pinterest. Let's take a look at six ways architects are using Pinterest:

Architects on Pinterest

To kick it off, annharr87 provides a great slideshow highlighting some of the best practices for architects on Pinterest. As you can see, grouping styles of homes into boards creates an easy way for clients to browse fun and sometimes fantastical homes. Showcasing your homes is a key use of Pinterest.

Showcase Homes

Share interior design ideas

Another effective use of Pinterest is to help consumers with ways to improve their homes. MB Design in Vermont provides home improvement ideas as well as interior design ideas:

Provide Tips

This firm is doing a good job of giving viewers valuable resources that they can use on their own. These are the true drivers of traffic to bring users to your site. Once there, make sure you offer them valuable content and ways to capture their information as a lead. If you can follow-up with them and continue to offer advice, you'll have them hooked.

Many "best ways to fix your (insert thing) in your home" type pins are shown below. These are great to get customers in your door.

Showcase work in bite-sized pieces

This firm, DxDempsey Architecture in Scranton, PA, is doing a wonderful job of organizing their pins and creating them to be very relevant to viewers. They are showcasing their own work, which is a key detail in winning customers. They show their home portfolio, retail stores, commercial properties, bathrooms, living rooms, etc, all that they designed themselves. This gives the consumers an idea of what they can achieve with DxDempsey.

In addition, this will encourage customers to pin their finished DxDempsey spaces on their own pages, and link back to the company. This greatly increases visibility, especially when you consider that 85% of pins are repins.

Enable user-generated content

Consumer-generated content is very important for architecture firms, as they are highly reliant on their clients for feedback and popularity. By enabling them to upload their own content and link to your profile on Pinterest, as well as share your content on Pinterest, you will increase your website traffic and also customers will assign more credibility for your business as visuals communicate so much more than words.

Attract specific audiences

Another firm, TCA Architecture from Seattle, WA, knows what they are doing on Pinterest. They include a variety of board types, and they are showing the public that they truly care about the environment with their first board being "Sustainable Architecture." This will appeal to the environmentally conscious customers and is a way for this firm to stand out among their competitors.

This firm is also doing a good job of showing architecture in a variety of lifestyle viewpoints, which gives them more reach with different types of customers and reminds viewers that everyone encounters architecture in their lives.

Pinterest for Architects

Pinterest is a perfect media to showcase architectural work. With the visual nature of architecture and the fact that it is the fastest growing social network, it should be at the center of any architectural firm's social strategy.
My Recommendation: What are you waiting for?
Follow CFA on Pinterest! My two favorite boards lately are "Building I like today" and "Buildings I don't like today".  Tell me what you think of my choices in the comment section.

Learn more
Need more help? Free resources to teach you how to use Pinterest along with the myriad of other social networks. Visit our resources page to download our free guides to social networks and digital marketing. You can also sign up for digital foundations class. This free email series will walk you through the most important concepts and networks for building a successful digital marketing strategy.

Related
Inside @Pinterest's beautifully spare new headquarters. http://f-st.co/J05eMfa pic.twitter.com/BXtoKe6yEb
The architects' guide to Pinterest
What the Heck Is Pinterest and Why Should You Care? Let Us Tell You.