Firms Report Strongest Billing Since Before Recession
PHILADELPHIA (MNI) – U.S. architects are enjoying the fastest growth in billings since before the recession for their work on a range of residential and commercial construction projects, and expect continued growth in coming months, according to company owners and a trade association.
Architecture firms in Los Angeles, New York, and Charlotte, North Carolina said they have hired more people in recent months and expect to hire again to cope with the extra demand from developers of apartment buildings, retail space and in some cases institutional properties like charter schools.
While some companies have at least doubled their billing and the size of their payrolls since the depths of the recession, most said they have work in the pipeline that suggests even stronger revenue in 2015.
"This is really just getting underway," said Kermit Baker, chief economist at the American Association of Architects, in an interview. "We are very much in the early innings of what looks to be a healthy recovery."
The AIA's monthly index of billing, which in July showed its strongest growth since mid-2007, is expected to show continued strength when the August index is released on Sept. 24, Baker said.
"I don't think there's any evidence that August was off that trend line significantly," he said.
The industry has seen intermittent growth during the last three or four years so the evidence of a sustained upturn is not yet conclusive but the current increase is the strongest since the recession, Baker said.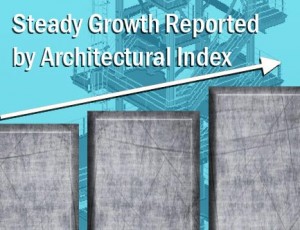 The growth suggests there will be an upturn in non-residential construction spending of around 10% in 2015, Baker said. He attributes the upswing to improving business confidence and better access to capital.
"Businesses are finally at a stage where they are comfortable reinvesting in their facilities, and comfortable that the economic upturn is going to be sustained," he said. "They are seeing sufficient demand to justify reinvestment."
The greater availability of financing is allowing the restart of construction projects that stalled several years ago because of a tight credit environment after the recession.
"Financing has begun to ease up a little bit," Baker said. "Surprisingly strong numbers of firms are saying they are now working on projects that they had begun three or four years ago, but stopped work and now they have come back."
Even the market for design of institutions such as schools is coming back after a period when it was hurt by a decline in local government tax revenue.
"The last couple of months we have seen very strong numbers on the institutional side, which would suggest that construction activity moving into 2015 will begin to pick up," Baker said.
The higher demand for institutional work has been seen in New York City where Caples Jefferson Architects is designing schools for both public and private-sector clients, as well as undertaking more work on residential projects.
"There are lots and lots of charter school construction going on right now as well as public construction," said Sara Caples, president and principal of the firm in Long Island City.
Caples said demand for her firm's services is at its strongest for at least five years, and that billing in the last few months has been about double its level of a year earlier. And in a sign that billings will growth further, she said she has had a "flood" of requests for proposals in recent months, and is responding to an unusually large number of them.
"We throw out a lot of requests for proposals if we don't think we have a strong chance, and we're still putting out a major proposal every week or so, which is just extraordinary," she said.
Current projects include a 20,000 square-foot charter school in the Bronx, and a 40,000 square-foot charter school plus a 12-unit residential component in Manhattan, she said.
Residential developments are facilitating the construction of associated institutional projects because of the strong retail market in New York, Caples said.
"The market is strong enough that the residential makes it viable to build the six-story school on quite a challenging site," she said. "The 12 residential units will allow them to pay off the mortgage very rapidly. The residential market seems to be the little engine that's financing quite a lot of things."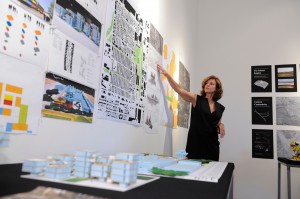 The eight-person firm already is two architects bigger than it was at the start of 2014, and may add more, despite an extremely selective hiring policy, if it takes on just one or two projects, she said.
The growth is being fueled by easier access to finance, which is helping not only to revive dormant projects but to launch new ones, Caples added.
"That's what's different about this," she said. 'Now, people are actually making new deals with their financiers that haven't been kicking around forever."
And she said her firm's current growth seems to be representative of the market as a whole. "Most of the people that we talk to seem to be experiencing similar patterns," she said.
In Charlotte, North Carolina, The Housing Studio, an architecture firm specializing in multi-family housing projects around the East Coast between Philadelphia and Charlotte, and in the Denver, Colorado area, is seeing an "explosion" in growth, said President Chuck Travis.
He said the company is billing about $3 million annually or more than three times the level during the recession. Its 28-strong work force is now about twice its traditional size, and four times its level at the low point of the recession. Travis said he's looking to hire four or five more architects.
Travis said the growth is unprecedented in the company's 18-year history. "It's exponential growth in a two-year time frame," he said.
He attributed the upswing to increased demand for rental housing in the walkable or transit-oriented urban areas that are favored by the "millennial" workers who eagerly sought by developers across the country.
That sector of the population is less interested in housing as an investment than was the previous generation, and prefers the flexibility of rented accommodation, he said, predicting continued growth.
"We're not showing any signs of slowing down," he said.
The demand for downtown living is also being seen in a three-square-mile area of Los Angeles, where 6,000 residential units are under construction and another 14,000-16,000 units are being planned, according to Simon Ha, a partner with TSK Architects.
That is creating more work for firms like TSK which is billing 30% more than it did a year ago, and has hired four architects this year for a total of 10, Ha said. And demand is stronger than it was in the pre-recession years of 2006-2007.
The construction boom, which he said is being fueled by investment from China, has resulted in land prices in the downtown area jumping to around $400 a square foot from $250-$300 two years ago. Land near LA's Staples Center is now selling for about $600 a square foot, or about double its level two years ago, he said.
With a booming population of single people demanding housing in previously desolate urban areas like downtown LA, there are big opportunities for companies like TSK which has increased its billing for residential design to 70% of its total, Ha said.
By JON HURDLE, August 2014. 
Search Careers
  Request Talent
Join Mailing List
Share with your colleagues