An exhibit showcasing CFA client SBLM Architects' new school project PS 133K in Brooklyn, NY is on display at the New York City School Construction Authority (NYCSCA).
The new 133K William A. Butler School replaces and honors an historic school that could no longer serve the growing student population in the Park Slope and Carroll Gardens neighborhoods. An architectural icon in the surrounding community, the original school was designed in the early 1900s by C.B.J. Snyder in the Flemish Renaissance style.
Working closely with the NYCSCA and the State Historic Preservation Office (SHPO), SBLM Architects identified building elements to be salvaged and integrated into the design of the new facility. Additionally, SBLM's design for the new PS 133K pays homage to the original structure by incorporating exterior elements that recall the Flemish Renaissance style, including steeply gabled parapet roofs and ornamental brickwork which were used as inspiration for the new design.
To serve the expanding student population in the surrounding districts, SBLM was commissioned to design a new school facility to house two district primary schools within one footprint accommodating 950 students. The new 116,000-square-foot building is located on the perimeter of the existing parcel of land, originally allocated for a playground and community garden.
The design of the new facility responds to the surrounding low-rise residential neighborhood by locating the greatest density of development along the site's commercial street, and relocating the community garden as a buffer between the residential neighbors and the school's main play yard. SBLM Architects designed the two separate school district entrance areas with raised plazas to isolate them from adjacent traffic areas off of a main thoroughfare and tower elements to identify entry into each school district.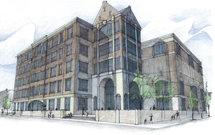 This building features a full size gymnasium, auditorium, cafeteria along with art, music and science rooms and meets the NYCSCA's Green School Guidelines. The NYCSCA's Green School Rating System is based on the USGBC's LEED Green Building Rating System, and includes enhancements beyond LEED requirements tailored specifically to design for education.
Carrie Snyder, Associate
Marketing Director
SBLM Architects PC
T: 212-995-5600
[email protected]
Share with your colleagues